Sharing your photos and videos publicly is not an option when you want to make your work known. At Joomeo, we heard you! This is why we offer several levels of public sharing (files, albums, spaces) and various options for managing the rights of your images.
Public folders
Whether it's a photo or video, a direct link to a file is the first level of public sharing. It can take many forms and adapt to your needs.
Choose the format of the shared image: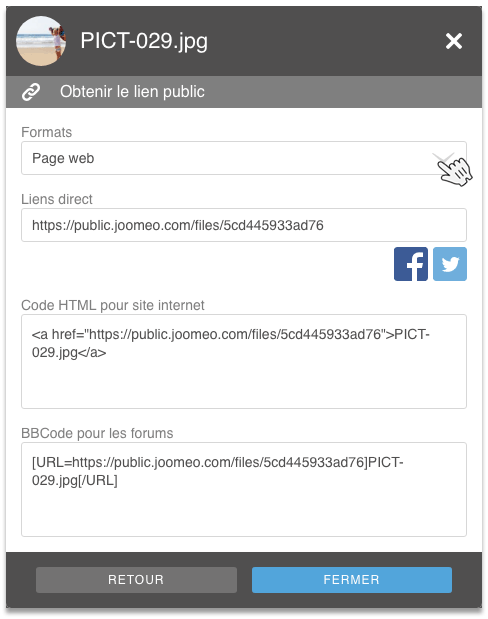 Web page format: Allows you to share your photo or video within a stand-alone page. The latter displays fairly complete information about your file such as IPTC, caption and keywords if any.
Large, medium & small formats and vignettes: These direct links are essentially intended to allow the integration of your image into a web page in the size of your choice.
The file format to download: Used as a URL which grants access to the source file. The person who clicks on this link downloads your photo or video in its original format.
Choose the type of link to share:
Direct link: As its name suggests, it returns to the file itself in the size defined above.
HTML website code: This is the URL to copy and paste into your website to create a link to the image's web page or to integrate the image itself into your website/blog.
BBCode for forums: The same principle as the HTML code but adapted to forums.
Depending on what you want to do, choose the size of the file to share and the type of link you need. Then, simply copy the URL and paste it into the space reserved for it to be shared (mail, web page, forum, etc.).
Public albums
Rather than sharing a single file, it's sometimes preferable to provide open access to a set of photos and/or videos. This is the role of a public album.
It grants access to your images without the need for user identification. It offers an attractive and user-friendly interface for showcasing your photos and videos.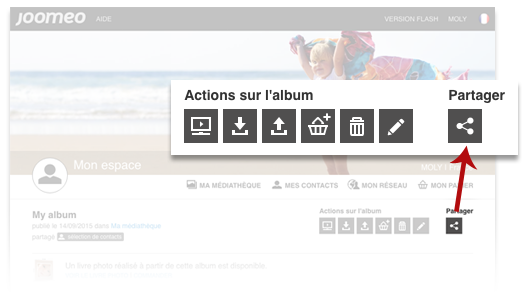 Activation of a public link to an album is done via the share button at the top right of your album page.
Click on the "Share" button to open the album sharing manager.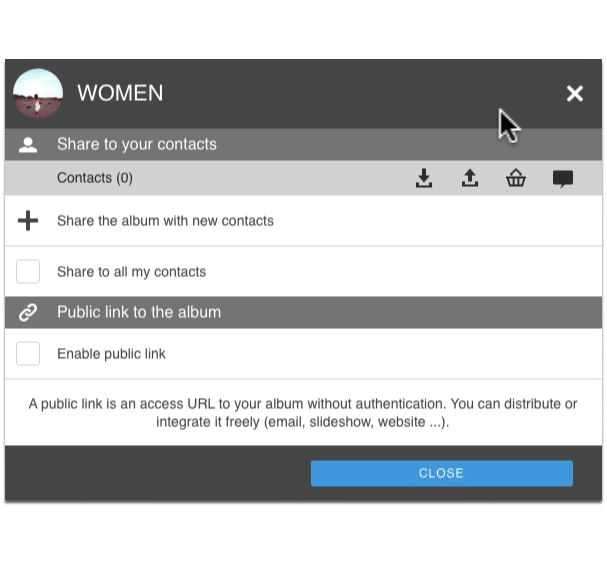 In the window that opens, check the activate the public link box and choose the various authorizations.
PLEASE NOTE: When the "published in your public space" box is checked, the album is automatically added to your public space if it's activated. Be sure to verify that this is what you want! 😉
Then all you have to do is click on the "GET THE LINK" button.
We have published a very comprehensive article on public albums and how they work. We suggest taking a look at it to become an expert on this topic! It's available here: Joomeo Public Albums.
Public spaces
We have designed your public space as a photo and video gallery where you can display your best albums. It contains only the public albums for which you've checked the "Published in your public space" option.
With its modern design that's suitable for all types of connected media, it's a place for you to showcase your creations.
To activate your public space, go to your Joomeo account in the "MY PROFILE" section.

Once activated, all that remains is for you to promote your public space. We've thought of everything and offer you several methods of dissemination.
Via social networks: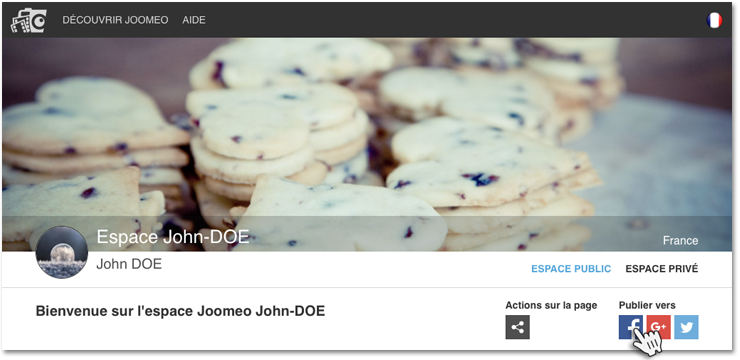 Via the media of your choice using the appropriate code: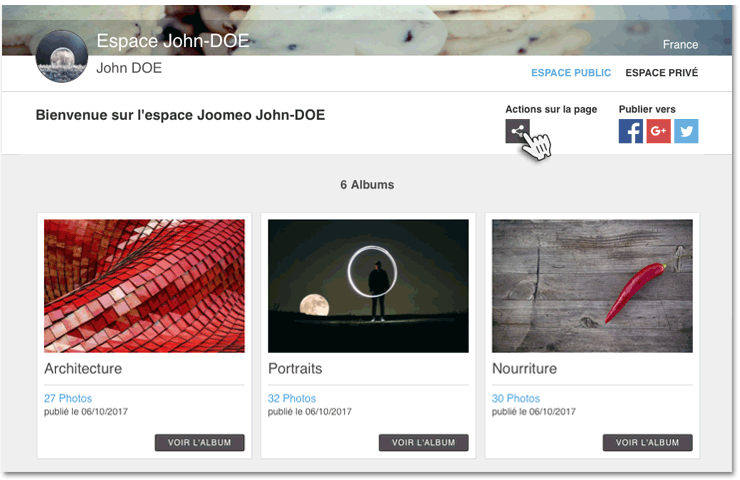 As with public albums, we have published a very thorough article on public spaces. You can find it here: Public spaces for sharing your selected albums with the world!
Conclusion
Joomeo's public links allow more open access to your images. They do, however, come with options to restrict the rights of your visitors in order to protect your photos and videos.
When you make the choice to create a public link, always be extremely vigilant in managing these options. Protecting your files remains our priority. To this end, we've ensured that you have the ability to maintain control over their distribution. Carefully set up your sharing and get started! 😉