It's once again with great pride that we present the latest features that have been uploaded by our teams! We were eager to offer you these major developments to further enhance your experience as a Joomeo user.
Ergonomics: all content in your Joomeo space accessible in two clicks with our new tree structure

Joomeo allows you to organise your media library with great precision and rigour. With this new collapsible column, you can see your entire tree at a glance and quickly access all the images saved in your space.
Manage your categories by moving your folders and albums directly within your tree, from your space to your tree or from your tree to your space. In a nutshell, feel free to do whatever you like!
Sharing: give a new dimension to your sharing with folders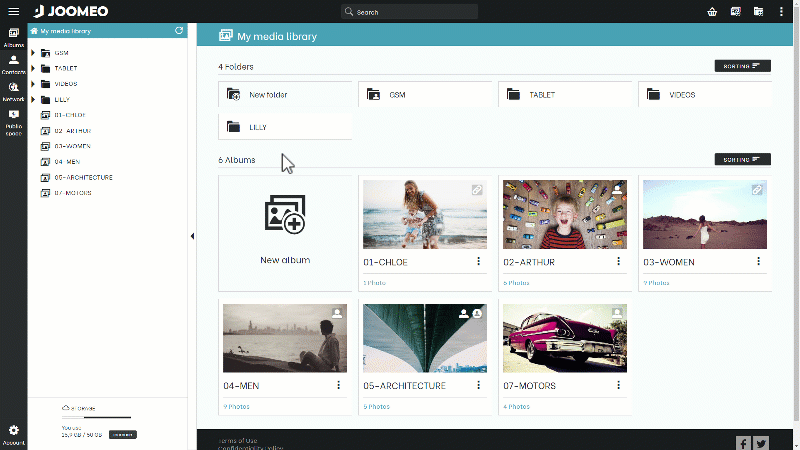 You've already been using folders to organise your albums and facilitate access to your images. Now they've become an essential part of managing what you share.
By setting up access to your albums directly from your folders, you save time without compromising the security of your private shares.
This feature, added to the management of shares via contact groups, propels your Joomeo space into a new dimension of photo sharing in private mode!
The search engine is now available in the guest space
When you share your albums with your contacts, it's important for them to be able to easily find the images that most interest them. The organisation of your Joomeo space is a great way to help them, of course, but it's not the only way.

We provide them with a simple and effective search engine. As such, your guests can quickly access the albums or files that interest them.
Names, keywords and dates determine the relevant criteria for their search and instantly obtain a list of results…so easy!
Conclusion
All the changes which enhance this new version of Joomeo have been designed to save you time. They make it easier to use your space. Tell us what you think!