The function is presented here in the flash version of the management interface for your space. It is or will be offered in a different graphic and ergonomic form in the HTML version of Joomeo.
Thus, each type of contact has its specificities and its advantages. Here is the list of their differences to help you make the right choice for your needs.

Classic contacts:
Profile designed to easily manage contact preferences:
Use an administrator-type presentation for contacts.
Display contact's folder.
Open media library tree structure.
Allow contact to download, import, order photo prints, leave comments.

Advanced contacts (1):
Opens the doors of the tab "Access rights" advanced for your contacts and allows you to:
Allow contact to modify the albums he/she added
Allow contact to delete the album he/she added
Allow contact to delete the files he/she imported
Allow contact to edit the descriptions of files he/she imported

Anonymous contact:
This profile allows you to create contacts without email address to send the same connexion information to many people, ideal for sharing photos or videos as a great event!
How do you edit the profile type of a contact?
Go to your contacts book through the "TOOLS" menu
In your contacts list, choose one whose profile you want to edit
Click the "Edit" button on the bottom right
From the "Contact type" drop-down menu that appears above the contact's first and last name, choose the desired profile
Confirm your changes for them to take effect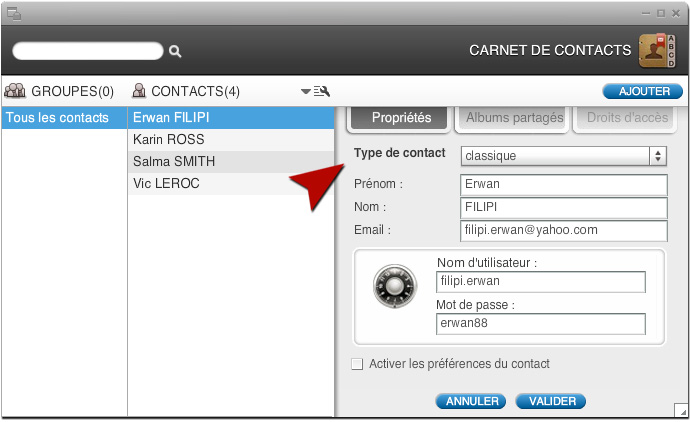 (1) The option is only available for DYNAMIC and FOCUS offers.