Joomeo's latest mobile applications are rapidly evolving. The features offered are more and more numerous and advanced. And the latest update is major!
Your entire space in your hands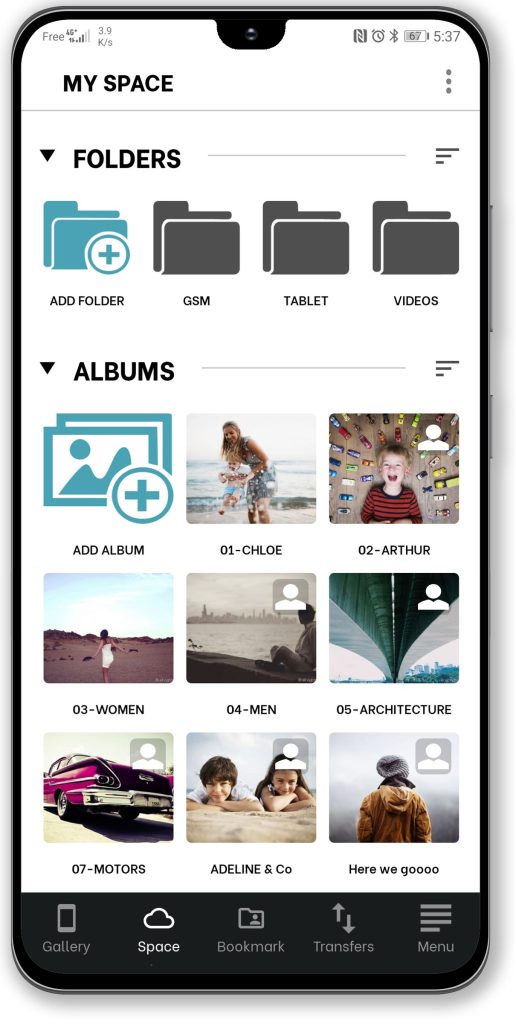 From now on, you can view and peruse all the albums and folders in your space directly from the application. You can even delete some of them or add new ones!
With this update, our mobile applications become real tools for managing your content on Joomeo.
This is especially true since, at a glance, you can identify images in your gallery that are already in your Joomeo space, and in your albums, the ones that are still on your phone/tablet. In a nutshell, you have everything you need to sort (and empty) your camera's photo library!
A more complete experience
In terms of ergonomics, you'll enjoy a navigation that's both fluid and enjoyable. Viewing images in your space can be done by simply sliding to the left or right, and the powerful zoom allows you to appreciate all the details…pure enjoyment!
But that's not all!
What's changed…
Managing your content:

Access to all albums and folders in your Joomeo account from the application.
Creation and deletion of albums and folders.
Multi-selection and downloading or deleting files.
Downloading an entire album.
Adding photos or videos from an album.
Introducing the AUTO backup frequency: allows for the immediate transfer of new files if the connection allows it. This option has just been added to the daily, weekly, monthly and manual frequencies.

Evolution of the interface:

Transfer section: Identification of the type of transfer (import or download).
Space section: Identification of files found on the device.
Space section: Appearance of a breadcrumb trail to facilitate navigation within spaces having deep tree structures (i.e. several levels of overlapping folders and sub-folders).