As usual everything has been done to make it easy for you!
There are several ways to automatically fill your book and allow you to order your photo book quickly.
Obviously, nothing is mandatory…you feel a photo is not in the right place? Change it by simply dragging and dropping…… You don't like the page layout somewhere? Choose another one in one click. You can change anything at will and as many times as you like before ordering.
Ready to try? so here we go, you'll see, it's child's play!
Login to your Joomeo space or create an account.
Publish your pictures in an existing album, or create a new one.
Click on "create photo book" in the top right menu to open or install our Joomeo Photobook application.


And now let yourself be guided!
Square, portrait, panorama, big or small… Choose your photo book format

Select the type of cover you want:

notepad cover (paper and stapled binding) to layout your everyday moments.


soft cover (paper cover and square, glued binding), ideal for your holiday or party books.

hard cover (cardboard cover and glued binding) to tell the story of your favourite memories and highlight your exceptional moments.
Fully automatic? Fully manual? Choose the mode that suits you best: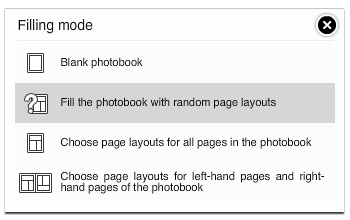 Blank photo book:
you choose your page layout and the photos as you create your book.

Fill the book with random page payouts:
our system selects the format of each page for you.

Choose the page layouts for all the pages:
you can choose page layouts that will be used both for left and right pages in your photo book.

Choose left hand page layouts and right hand page layouts for the photo book:
you choose the page layouts that will be used by the system to automatically populate the left hand pages and the right hand pages of your photo book.
Check the "Fill my book, with my selection" box
if you want your book filled automatically using the photos in your album. If you prefer to choose the location of each photo yourself, uncheck this option.

What kind of paper do you want?
Indicate the type of paper you want to use (satin, glossy, matt photo or glossy photo) and the number of pages

3… 2… 1… Create!
Validate and let your creativity guide you!
No duplicate pictures!
When you're creating a photo book containing several dozen photos it's sometimes difficult to know how far you've got and remember which photos have already been used. Thanks to Joomeo, relax! A small marker shows how many times each photo appears in your book… you're done with duplicates!
No more mistakes…
Oops, an empty page or a forgotten caption! Don't worry, when you validate your page layout, Joomeo indicates the possible anomalies in your creation and proposes to "browse" through it like a real book to check everything. Reassuring isn't it!
There are an incredible number of page layouts, 6 available formats, 3 types of cover and 4 papers available… now it's up to you!